So last night I decided to re-watch 'The Impossible' – a film that I saw in the cinema when it was released around 5 years ago. All I remembered of the film was that I cried my eyes out through most of it. And what happened this time? Exactly the same xD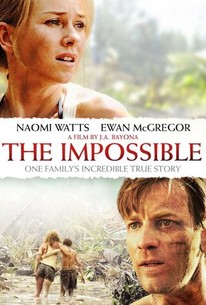 'The Impossible' is honestly the most emotionally draining film you will ever watch. Set in Thailand, it follows the journey of a family of five who travel there on holiday but, in turn, face the aftermath of a tsunami. With fairly graphic images of the destruction of buildings against skin, it's difficult to watch without feeling as though you're being damaged yourself. The acting of the mother by Naomi Watts and the son Lucas by Tom Holland, I personally thought was amazing. Often in films, scenes of devastation seem rather forced or lack a sense of realism, however here I felt everything they felt and it was suddenly as if I was a part of the situation too – something all films aim to capture and one which this film certainly did.
The fact that this film is based on a true story, most of all, enhanced the emotions you felt towards it whilst watching. It's something that could happen to anyone. You start asking yourself all these questions. Would I survive in this situation? How would I feel? It makes you feel lucky to not have been in their position.
What I loved most about this film, as well as the acting, was the way it was filmed to seem as realistic as possible – the camera floating between the depths of the waters and the freedom of the air; the camera dipping amongst crowds to show the sheer amount of people damaged by the tsunami (directly and indirectly) and the difficulty of searching for someone in such a vast and unknown space.
Honestly, I don't really have anything negative to say about this film because I really felt everything it was trying to convey and I appreciate how it brings awareness to these sorts of issues which happen a lot more often than we think. If you haven't seen this movie yet, I wholeheartedly recommend it. But don't be surprised if you have to grab some tissues.