I finally read The Handmaid's Tale! After it being a massive topic of conversation lately, especially with the TV series, as well as a lot of people studying it for A level, I knew I had to read it because it was starting to get just a little bit embarrassing. And I'm really glad I did!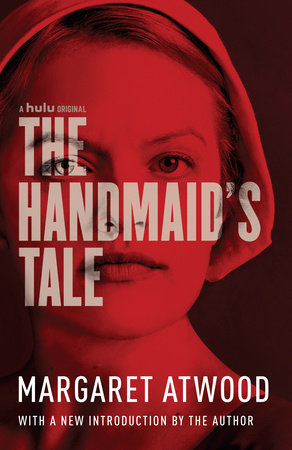 Dystopia is actually one of my favourite genres of book. I love the idea of throwing myself into a manipulated version of reality where things are the same but also really not. It especially surprised me that The Handmaid's Tale was written back in 1985 because to me it seems contemporary. After reading this book, I totally understand why it is so significant in terms of patriarchy and the way women are treated and ceased of their natural abilities, especially in terms of the natural process of birth. It's crazy to think that procreating becomes the only reason to live in this book, as if any other part of human experience means nothing. But really, what is the point in procreating if there is nothing to live for? It's all a major contradiction and I found myself asking all these questions as I was reading it. Since happiness, for me, is the most important part and goal of life, there was no way I could remotely justify the world of this book, not even if I tried. However, I am glad I put myself into this world through the concept of reading because it's only once you've transported to a world worse than this one that you realise that actually you might quite like to live in this one after all. 
I just wanted to leave a few of my favourite quotes below because I feel like a few things really resonated with me, whether it was the words themselves or the way it was written.
—
"I know why there is no glass, in front of the watercolour picture of blue irises, and why the window only opens partly and why the glass in it is shatterproof. It isn't running away they're afraid of. We wouldn't get that far. It's those other escapes, the ones you can open in yourself, given a cutting edge."
"Modesty is invisibility…Never forget it. To be seen – to be seen – is to be – her voice trembled – penetrated."
"We have learned to see the world is gasps."
"But if it's a story, even in my head, I must be telling it to someone. You don't tell a story only to yourself. There's always someone else. Even when there is no one."
"But who can remember pain, once it's over? All that remains of it is a shadow, not in the mind even, in the flesh. Pain marks you, but too deep to see. Out of sight, out of mind."
"No mother is ever, completely, a child's idea of what a mother should be, and I suppose it works the other way around as well."
"You can't help how you feel…but you can help how you behave."
—
I'm sure a lot of you have read this book too so please let me know your thoughts on it, or your favourite quote!